Quality in series
The component production of our Contract Manufacturing section has made a name for itself in many branches of industry. Modern technologies from tubular laser to fully automatic sheet-metal processing machines, together with enormous process expertise, ensure our outstanding reputation in the field of component manufacture.
Thanks to our modern machinery we can offer the entire service chain for processing sheet metal, wire and tubing from a single source, either in modular fashion or as an all-round service – from construction to delivery, from small to large series. Always in top quality "Made in Austria".
WIRE AND WIRE MESH PROCESSING
In the production of wire mesh and the processing of wire in particular, we take advantage of the latest technology to ensure that we produce the exact product you require from a coil of wire, optically and technically perfect and adapted to suit your requirements.
Complex two- and three-dimensional wire bending components, spirals of all kinds and wire frames are produced in the CNC bending and coiling centre. We process steel and stainless steel wires with dimensions from 4 mm to 9 mm.
The production can take place on the basis of 3D files or drawings. It is also no problem for us to produce items according to a sketch or a sample. The price-performance ratio remains unbeatable.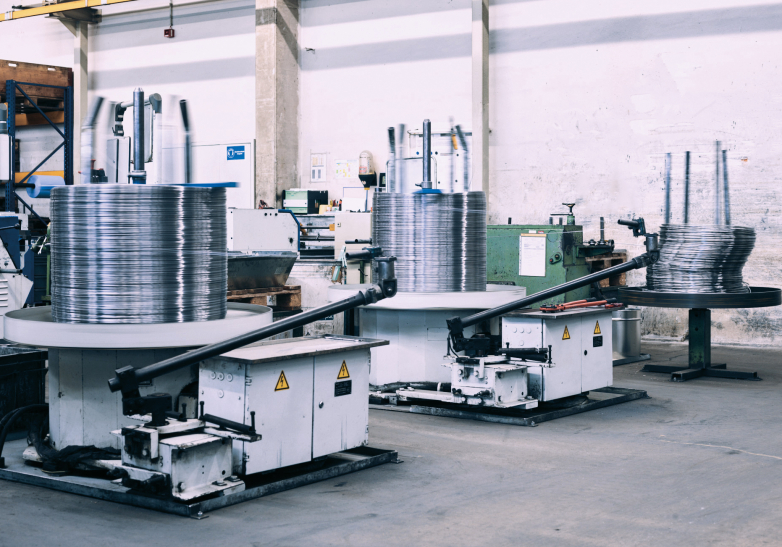 STEEL TUBING AND PROFILE PROCESSING
Tubing and profiles often represent the starting point for our customers' projects. Precise cutting and perfect contours are absolutely essential.
Bevels, cut-out shapes, recesses or penetration cuts –we can use tubular laser cutting processes to create the preconditions for precise sockets and perfect connections. The contactless laser cutting works without deforming and therefore with top precision. The machines are fed via belt loading magazines and thus ensure non-scratch material feeding, whereby even delicate surfaces remain undamaged. With a loading magazine length of 6550 mm we can also manufacture very long tubing components without difficulty.
Connection points and sheet-metal components receive their final form in the grinding operation.
If required, metal tubing and profile sections can be finished and protected by means of our various coating technologies – with ultimate precision and assured quality.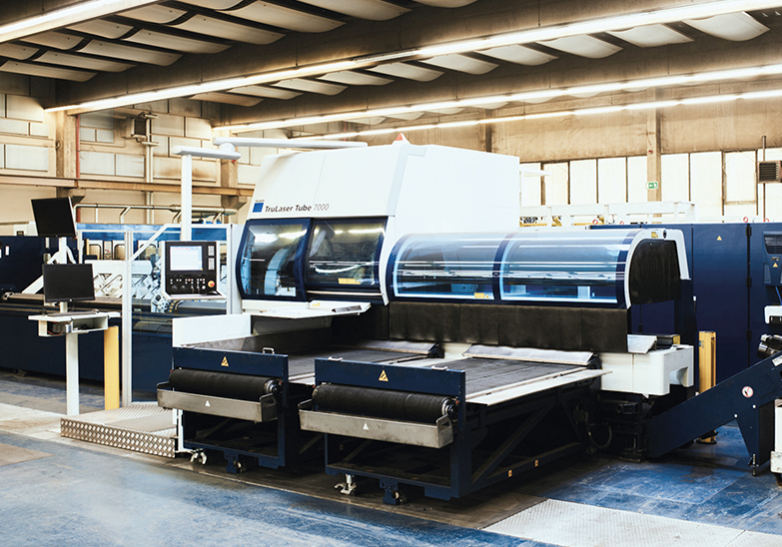 SHEET METAL AND STRIP PROCESSING
In the sheet-metal processing section we process thousands of tonnes of sheet metal every year. Our work is based on the highest quality standards and the latest cutting-edge technology, which is what our customers want. Thin sheet, heavy plate, stainless steel, aluminium sheeting or brass – in our fully automatic sheet-metal processing section you will find every imaginable form of technology, from laser cutting to cutting/nibbling, and via cutting and piercing, bending and chamfering to welding and punching.

The most suitable process for every requirement, in fact. CNC-controlled machines ensure the highest degree of precision and reproducibility. We have processing equipment with a high degree of automation available for small series. But we can also manufacture individual parts and highly complex components professionally in our manual production unit.