A brilliant performance
As they say, "You will never get a second chance to make a first impression". That also applies to technical products. However, the surface of many products is not only treated in order to improve the appearance. Corrosion protection, durability and specific physical qualities may be required and make it necessary to coat the visible or function surfaces. Depending on requirements the coating can be layers of paint, plastic or metal.
Our customers' requests are both diverse and individual. But for us one aspect remains the same in all cases, whether it is a matter of a small series or single parts: personal contact, competent advice, the latest technology and perfect logistics ensure top quality and adherence to delivery dates. With us, your wishes and requirements are in good hands.
Thanks to our ultra-modern powder-coating machines we are in a position to apply coatings which will protect your products from mechanical damage and environmental influence as well as improving their characteristics during use.
Automated processes are available for larger series. Complex parts, smaller series and individual pieces are coated manually by our experienced coating technicians. In particular the partial coating of complex parts is one of our specialised processes which is greatly appreciated by our customers. After the necessary preparatory treatment, including cleaning, de-greasing and coating with iron phosphate (steel) or chrome-VI-free passivating (aluminium alloys), the epoxy-polyester powder is applied electrostatically and subsequently hardened, creating a layer that is 50 – 120 μm thick and lead and cadmium-free.
In addition to the standard RAL shades we can also offer you customised colours: with top accuracy with regard to reproducibility, and in perfect quality. A variety of surface structures can be produced, as can variable effects. Our range of services also includes end installation and the completion of coated parts.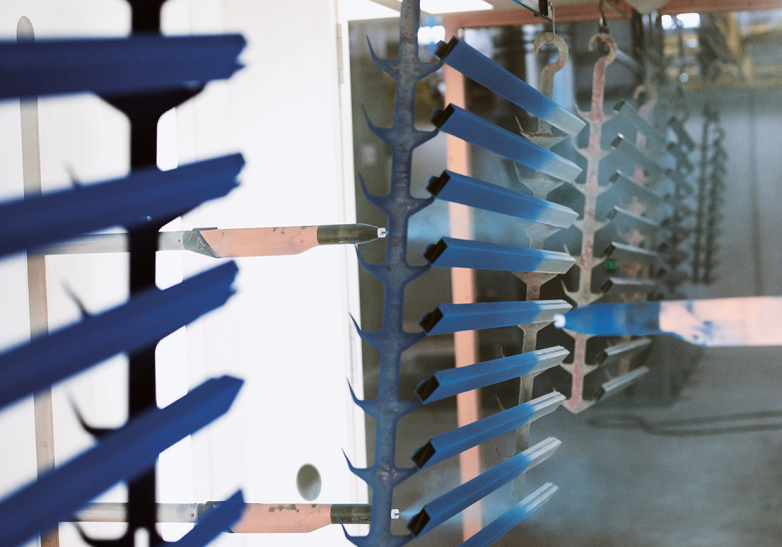 Decades of experience in electroplating with a wide variety of coating materials will give you the certain knowledge that your products will gleam with perfect corrosion protection and an exclusive appearance.
The range of services extends from zinc- to chrome-plating and even special processes such as nickel-plating and electropolishing. Combined processess consisting of preliminary zinc-plating followed by powder coating are also possible and are available in Austria only from us.
With regard to the zinc-plating you can choose between zinc-plating with blue passivating, zinc-plating with yellow chrome-plating, zinc-plating with a zinc-iron alloy and black passivating or chrome-VI-free zinc-plating with thick-layer passivating. The range of chrome plating options is no less extensive. It extends from bright chrome-plating via industrial chrome-plating, micro-pore chrome plating and black chrome-plating to a number of variations on matt chrome-plating. Zinc plating or zinc pre-treatment ensures that the coating will adhere extremely well. This opens up unimagined possibilities, especially in combination with powder-coating.
Nonetheless, mechanical further processing, such as milling, drilling, turning etc., are still easily implemented. In any case the functional use is retained and your product is presented in brilliant style.