The new duo at umdasch: TruLaser & Compact Position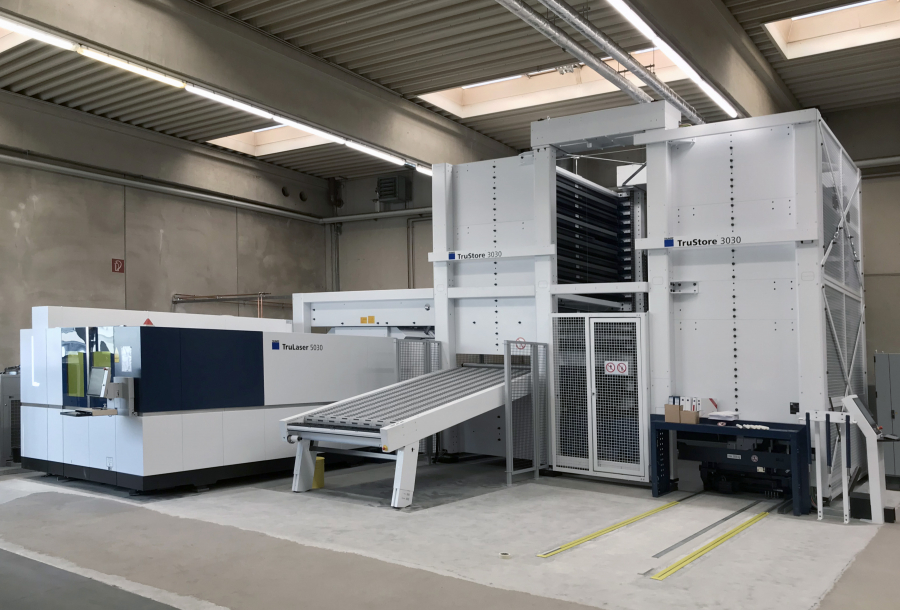 Press
The component manufacturing of contract manufacturing has made a name for itself in many branches of industry. Modern technologies, from tube lasers to fully automated sheet metal processing equipment, as well as enormous process know-how, ensure our excellent standing in the field of component manufacturing.
Thanks to our modern machinery, the entire service chain of processing sheet metal, wire and tube can be offered from a single source, either modularly or as a complete package - from design to delivery, from small to large series. And always in top quality "Made in Austria".
High-precision laser technology
The TruLaser 5030 laser cutting machine stands for high productivity, efficiency and high-quality results. Speed and reliable processes are what set it apart. Versatile automation solutions and intelligent functions guarantee excellent results in continuous operation - thanks to the CO2 laser, you can see yourself reflected in the cut edges. The perfect machine for excellent laser cutting.
The BrightLine cutting process, an interplay of innovative components and a flow-optimized nozzle, enables top-quality cuts in thick stainless steel and mild steel. With stainless steel in particular, the BrightLine fusion cut results in an especially high-quality cut edge - you can see yourself reflected in it.
The dynamic compact storage system
The TruStore Series 3000 compact storage system grows with requirements, reduces space requirements and can be expanded to a fully automated system. The height of the storage system can be selected from 15 possible levels, and the storage compartments can be adjusted to 90 or 170 mm. The storage system is connected to our TruLaser 5030 laser cutting machine and the punching nibbler. It can be expanded modularly at any time according to the modular design principle.
Perfect quality
With the fiber laser, we achieve the best cutting results.
Best possible edges
Thanks to BrightLine, we achieve mirror-smooth cut edges in stainless steel.
Minimal part costs
High machine dynamics, even with complex contours
Filigree cutting even of thick structural steel
With the CoolLine function, we create even small contours in thick mild steel in top quality.
Increase machine availability
Condition Guide always keeps an eye on the condition of the machine.
Flawless nozzle quality
Smart Nozzle Automation ensures high nozzle quality - even in fully automatic operation. macos/deepLFree.translatedWithDeepL.text